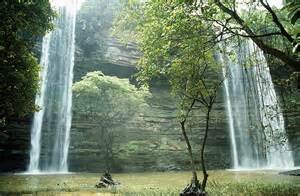 Boti Waterfalls is a twin waterfall located at Boti in Manya Krobo in the Eastern Region of Ghana. These twin falls are referred to as female and male.
Boti falls is a 30m high waterfall within the Boti Forest Reserve about 30 minutes drive east of Koforidua. A small hike down 250 concrete steps takes you to waterfall with a pool at the base which is good for swimming. On your way there is a beautiful lan

dscape, which has no wild life. The male and female waterfall comes from two emerging rivers which divide to form the male and the female. The larger one is the male and the smaller one is the female. According to the people, when the two merge they form a rainbow. It is said that they are mating. Within the vicinity of the falls are summer huts and visitor facilities.
Additional information